About Us
A premier clothing manufacturer and distributor, Ebony Holdings has been in operation for over two decades growing from a humble beginning to its current stature. A specialist forerunner in men's fashion across a number of categories in the local industry, Ebony Holdings and its portfolio of market-leading brands are poised for continuous growth and committed to superlative quality in all dimensions of the fashion business. Strictly adherent to the highest standards on par with the world's best, the company, its management and team aspire to invoke the best in style and so much more for the modern man.
Our Vision
"To be a preferred fashion icon for discerning, fashion-conscious customers who demand the best from their attire."
Our Mission
"To be an exemplary presence in the fashion industry, engaging our stakeholders ethically with respect, integrity and care."
Our Values
• Focus on Stakeholders
• Achievement of Total Satisfaction
• Uncompromising Quality
• Continuous Growth

Our History
With a tenure of over two decades in the business, Ebony Holdings has transformed to occupy a leading position in the fashion industry of the country and region. A transformational success story, the company has evolved into its success, drawing from its proud legacy while maintaining a steady focus on the future, a formula that has succeeded in producing champion mens-wear brands and scaling new heights of success in the business.

Today, an established player in the market, Ebony Holdings aspires to a future of limitless potential and possibility as a future-ready enterprise with great promise.
Board of Directors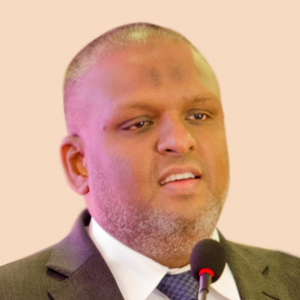 Rasmy Raheem
- Chairman -
A visionary entrepreneur, A.R.M Rasmy founded Ebony Holdings as a realization of his dream to establish an iconic fashion brand. Since founding Ebony Holdings he has been instrumental in leading the rapid growth of the company and delivering a portfolio of diverse fashion brands to the market under the company's patronage. Having realized his aspiration to set up a respected clothing manufacturer and distributor, Rasmy today looks ahead to a future of unprecedented growth and success in the global fashion arena.
Raseen Raheem
- Managing Director -
A business-savvy fashion advocate, A.R.M Raseen shares in the success envisioned by Ebony Holdings to be the leading fashion brand in Sri Lanka. Raseen's contribution has been invaluable to the new product development process that has come to be characteristic of the company. Furthermore, his vision for a globally present business has led Ebony Holdings to aspire towards foreign markets. Driven towards innovation and a love for future-forward fashion and style Raseen looks to the future with a view of achieving international success.